Looking for some new and interesting cauliflower dishes? This Cauliflower Rice Biryani recipe is easy to make, delisious, low carb, ketogenic friendly, vegan and uses some interesting Indian spices.
Garam Masala is an amazing spice blend used in many East Indian dishes.  It is one of my favorite spice blends so I always keep some on hand.  I've provided my recipe separately here in case you want to make your own.  Alternately, Frontier makes a good pre-made blend that can be used to flavor this and other vegan cauliflower dishes.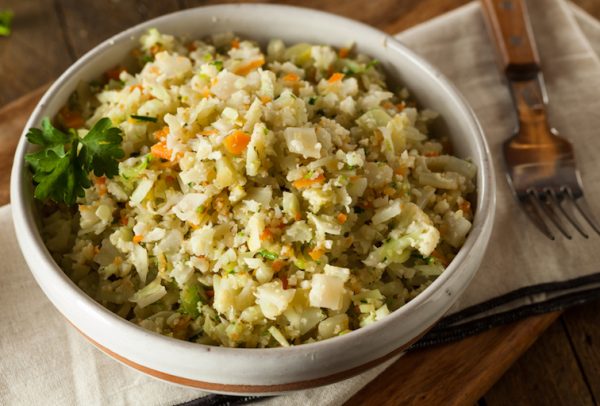 | | |
| --- | --- |
| | |
Instructions for the Garam Masala
Heat your oven to 180 degrees and roast your garam masala for 30 mins. When cool, add one bay leaf, 1 teaspoon of ground nutmeg, and pulverize in a nut grater until very fine. Store the mixture in an airtight container like a mason jar.
Instructions for the Biryani
Heat coconut oil in a large pan and add your root vegetables. Sauté for up to 10 mins to soften the mixture of veggies.

Stir together your spices in a small bowl and add the spices (including the garam masala) to the pan.

Add the riced cauliflower, peas, red pepper, and yellow squash. Stir often and allow to cook for an additional 10 mins.

Pour in the liquids, nuts and dried fruit and cook for 10 to 15 more minutes on low until the liquid is absorbed.

For a heartier meal, serve over a bed of quinoa or other grain. Enjoy!
For other yummy cauliflower dishes, check out: