Podcast: Play in new window | Download (15.1MB) | Embed
Subscribe: Android | Email | Google Podcasts | RSS | More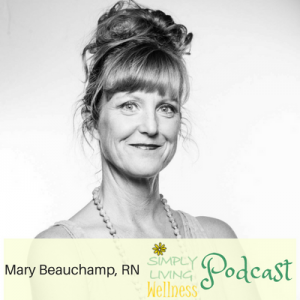 Understanding Ketogenic Diet Weight Loss: In this episode of, Simply Living Wellness, Donna Abreu speaks with guest, Mary Beauchamp, RN, GAPS™ Certified Practitioner, who talks about taking control of your health and healing yourself by becoming keto-adapted.
Mary brings so much more into her teachings than just yet another "eating plan". She teaches her students and clients how to make life long change and transformation by taking a holistic approach where you learn how to nurture your mind, body AND spirit.
Many of you have probably heard about the ketogenic diet. But there is a lot of misunderstanding about this approach and ketogenic diet weight loss. Or I should say, there are ways of following this diet that are actually not so healthy. It's kind of like being a vegan. Just because your a vegan doesn't mean you are healthy, and eating nutrient-rich, whole foods. Mary has her unique approach to living keto-adapted that is really more about a lifestyle change.
Life is busy and figuring out how to navigate the path to good health is confusing and takes a great deal of vital life force energy that you may not have. Learn what it means to be "keto-adapted"…  when you begin to utilize fat as your primary fuel source and your body begins to produce ketones.
In this episode you'll learn:
What it means to be keto-apapted
How to burn your fat stores all day long without feeling hungry
How to have more clarity, energy and connection to source with this way of eating
Why Ketogenic is far from the commonly know Atkins, or "meat diet"
How to follow ketogenic and consume highly nutritous foods at the same time
Tips for making this lifestyle change easy when on-the-go
Why as a nation we are metabolically imbalanced increasing cancer, disease and chronic conditions
What is a superfood and why should you care
Mary Beauchamp is a Registered Nurse, a world traveler, a food alchemist, and student of ancient healing traditions. With her knowledge of nutritional science, natural plant medicines, and ancient superfoods, she formulates food products for the natural foods industry.
Mary is a private health coach specializing in healing the metabolism and reversing disease through the implementation of therapeutic, nutritional strategies and mindful awareness. She addresses both environmental, emotional and dietary stressors.
Mary is passionate about re-educating people about nutrition.  She works with a team of Naturopathic doctors in northern California. She also offers private and group online coaching programs that you dial into from anywhere in the world.
You can learn more about Mary at her website about ketogenic diet weight loss and this lifestyle change: www.KetogenicDietCoach.com, and her yummy low carb, highly nutritious smoothie mixes can be found at www.BrightEarthFoods.com.
About Mary Beauchamp, RN
Mary Beauchamp is a Registered Nurse, Therapeutic Nutritionist and GAPS Certified Practitioner. She first discovered the ketogenic diet in 1993, when she began my career working with Dr. Stephen Phinney, at The Obesity Treatment Center in Sacramento, California. Dr. Phinney is a revered pioneer of the ketogenic diet. He has written several books, which she highly recommends reading: The Art and Science of Low Carbohydrate Living (a must read for health professionals!); and The New Atkins For a New You.
As a mother of four children (and grandmother of two), Mary has always been determined to find ways to keep her family healthy without relying on antibiotics and pharmaceuticals. Thus, implementing a low carbohydrate lifestyle fulfilled my highest expectations and was like a magic bullet for keeping her family healthy over the last 25 years.
It is no coincidence to het that cutting edge medical research has discovered a plethora of supporting evidence for the ketogenic diet in multiple applications including obesity, diabetes and cancer treatment. Why aren't people demanding that these therapies be pushed through trials?
"Ironically, the biggest obstacle we have is the fact that the [ketogenic] diet is free." ~ Jim Abrahams, The Charlie Foundation
Mary has directly experienced the benefits of the ketogenic diet with mher own family; and with virtually every client she has worked with, who is willing to make the shift. It works! And… the results are extraordinary!
Her number one goal is to help ordinary people make an easy transition to a low carb, ketogenic lifestyle, because she believes it is the most potent and accessible healing strategy available to the masses for reversing disease.
The ketogenic diet has been proven effective for combating seizures, Alzheimer's, dementia, mood swings, anxiety, depression, ADD, ADHD, brain fog, hormone imbalances, low libido, metabolic syndrome, leaking gut, obesity, cancer (inoperable brain cancer), heart disease, vaccine injuries, Type 2 diabetes, autoimmune disorders…
Mary has learned that prevention is NOT early detection…  Prevention is doing something right now that is going to create lasting wellness… Her deepest desire is to educate people about health, so they can become their own best advocate.
Mary teaches people how to take control of their health, through dietary therapies that restore the function of mitochondria, and coach people on how to start living the life they truly desire.