Podcast: Play in new window | Download (11.3MB) | Embed
Subscribe: Android | Email | Google Podcasts | RSS | More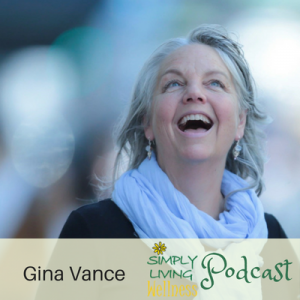 In this episode of, Simply Living Wellness, Donna Abreu speaks with guest Gina Vance, from Mind Body Journeys, about going inward to get the answers to physical or emotional pain, and to release old traumas, stuck energy, and to embody more of your best self. If you are battling with any physical pain, or emotional issue including stress, or would just like to live a more balanced and fulfilling life, we encourage you to listen to Gina Vance' self-healing story of how she healed naturally from unbearable back pain after failed attempts at just about every holistic approach out there as well as avoiding surgery.
When You're Ready to Go Deep – It's All Healable
Gina's work with clients has brought her to believe that human beings have a phenomenal untapped capacity to heal, love and contribute.
She teaches mind-body healing skills that are deeply simple, easy to use and give you a direct experience of your inner spirit, so you can release the suffering caused by the inner blocks that interfere with the free flow of your vitality, and get you free to feel more inner peace, confidence and meaning, so you can accomplish what you want to in this life.
If you're unwilling to be held back by past experiences or present circumstances, and you want to develop a stronger relationship with your inner wisdom, strength and ability to create change, you can access the answers inside you to resolve the source of unwanted behaviors and experiences.
You can comfortably and confidently be who and what you truly are and bless the world with the unique gifts you carry.
You can turn tragedy into triumph, resolve the root cause of unwanted symptoms, and experience freedom from anxiety, pain, unwanted behaviors and overwhelming emotions.
Your Mind, Body and Spirit Know How
Rather than addressing physical pain with a band aid approach, you may need to resolve its root cause. This pain may be acting as a signal – very likely a symptom of post traumatic stress that is unresolved. These terrifying energies are stored in the body until they have a safe opportunity to be expressed. And the longer this stress gets stored, the more it will build up pressure and become distorted. It will find an outlet for letting off some pressure, and to get your attention. It's a cry for help. It wants to be released, digested or transformed in some way. Following this pain to its source will allow you to resolve it. Yet, we have not been taught how to accomplish that resolution.
Listen now as Gina shares about:
Why you should be careful with traditional suggestive hypnotherapy audio CD's
How we have the wisdom within us that knows exactly what we need to experience in the moment to get what we want and see the changes we desire
How to gain all the support we require by going inward
How to receive messages, guidance and gifts from those internal sources of support
How we can stabilize the nervous system, and strengthen the connection between left and right brain, and between the mind and body
How to clear, dissolve, digest or transmute the energy blocks or obstacles that limit us!
Why we need to connect to the parts of us that are suffering
There Are Many Sides of Us that Sometimes Compete
There is often one part of us that doesn't want to experience pain. It wants to keep us "safe", pain free and experiencing pleasure, always.  Yet on the other hand, we have a side to us that does not want us to miss out on any opportunities to learn who we are and what we are capable of. It knows that suffering may be required for that opportunity to explore, experience and learn. We may need to connect to a part of us that is suffering in order to learn from it and set it free to express its true essence.
There is also the middle, however, that part of us that is more neutral, and here to listen and to support us in everything we are learning and experiencing in the moment. Gina and her type of work helps us access all three parts.
Inner Journey Work Can Resolve Life Issues, Whether Big or Small
Hear Gina talk about some her clients' incredible success stories:
A girl that could not speak anymore who got her voice back
A desperate woman with anorexia who was fired by her therapist as a hopeless case
A man with ten years of seizures and repeated failed attempts with other therapies
A young man with violent outbursts, ADD, and OCD who was facing shock therapy
A mom of three young children addicted to crystal meth
Not all the success stories of Gina's clients are as dramatic as those described above. In fact, in most of the cases the results are subtle. They are natural and organic and come from inside of you which is part of what gives them their power. You may not notice them at first. Maybe you don't react the in the same way to a certain situation or a trigger. The beneficial results are also cascading. You came in to address one issue, and as a result, experience other positive changes in a cascading manner. Results can be immediate or happen over time. The good news is that results are permanent and long lasting and profound.
To learn more about Gina Vance and this type of work, please visit www.MindBodyJourneys.com You may contact Gina directly from her site. She offers a complimentary introductory phone call to see if there is a good fit on both sides. She also offers an online learning program called, 8 Days that Changes Everything which is a concentrated form of what she teaches one-to-one with her private clients. It can be taken virtually in the comfort of your own home.
About Gina Vance
After a career in engineering, excruciating pain put me on a path of research and training that introduced me to the mind-body methods that helped me to heal the trauma that turned out to be at the root of my physical pain. These are the same methods I have been teaching to individuals and groups in my mind-body healing and coaching practice since 2001.
I serve as a mentor to coaches, clinicians and agents of change here to transform the world for the better, and help others do the same, and I write, speak and consult, teaching simple ways to make practical use of the mind-body connection for healing on multiple levels.
I've studied with the Medical Doctors who founded the Center for Mind-Body Medicine, and the Academy for Guided Imagery, trained with Mindful Schools, with Shamans, and many healers; some grounded in scientific research, others wildly instinctual.
A graduate of the Academy for Guided Imagery and the Center for Mind-Body Medicine, I'm a Certified Clinical Hypnotherapist, Alchemical Hypnotherapist, Inner Guidance Life Coach, Mind-Body Skills Advanced Professional, and creator of Renegade Meditationsm – a root cause resolving method of mind-body exploration, discovery and healing.
Together with what I know to be heroic souls on healing journeys ('clients'), I've developed a uniquely transformative blend of mind-body tools to relieve stress, pain and anxiety; change unwanted habits, and feel peaceful, confident and empowered.
These mind-body tools support the transition between your life as it has been and the new life you want to create, in ways that access and utilize your own unique genius; in service to your unique mission and purpose.
Facilitating holistic recovery for trauma survivors; teaching educators, helping-professionals and clinicians to incorporate mind-body skills into their work; and helping high achievers reach beyond their limits is the focus of my work.