Are you ready to finally do a little detox of your body?
Has your diet been less that optimal lately?
What if you had a simple plan to get the junk food out and the healthy food in, even if your schedule is packed?
Get ready to make it happen with the FREE 4-Day Plant-Based Healing Soup Cleanse
I'm ready to soup!
Hey friend! I know you have tons of info about healthy eating already. But how often are the clean snacks for work, the eight glasses of water per day, or the healthy recipe prep totally forgotten?
What you need is a plan to make it happen.
The 4-Day Healing Soup Cleanse comes with everything you need to jump-start your healthy eating routine, regardless of how much time you DON'T have. The cleanse is plant-based, yet you can easily substitute a clean source of bone broth and/or healthy, clean, organic meats into the soup recipes.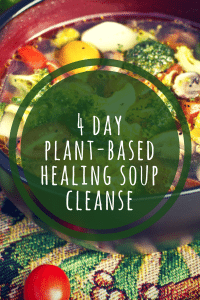 When you sign up for this FREE challenge, you get:
My 30-page e-guide all about cleansing with soups and smoothies
12 delicious, easy to prepare recipes you and your family will LOVE
A detailed shopping list to save you tons of time at the store
A 4-day suggested meal guide for breakfast, lunch, and dinner so you don't have to wonder what to prepare
Get a taste of the new trend in cleanses – SOUPING!  And this one is all plant-based!!!
You can make healthy eating happen and feel amazing even if you:
Work a stress-filled corporate 9-5
Are raising a family of five
Pull 14-hour days
Live the crazy life of a solo-entrepreneur
Or simply don't have enough hours in the day
The FREE 4-Day Healing Soup Cleanse will show you how.
Click Here for Immediate Access!